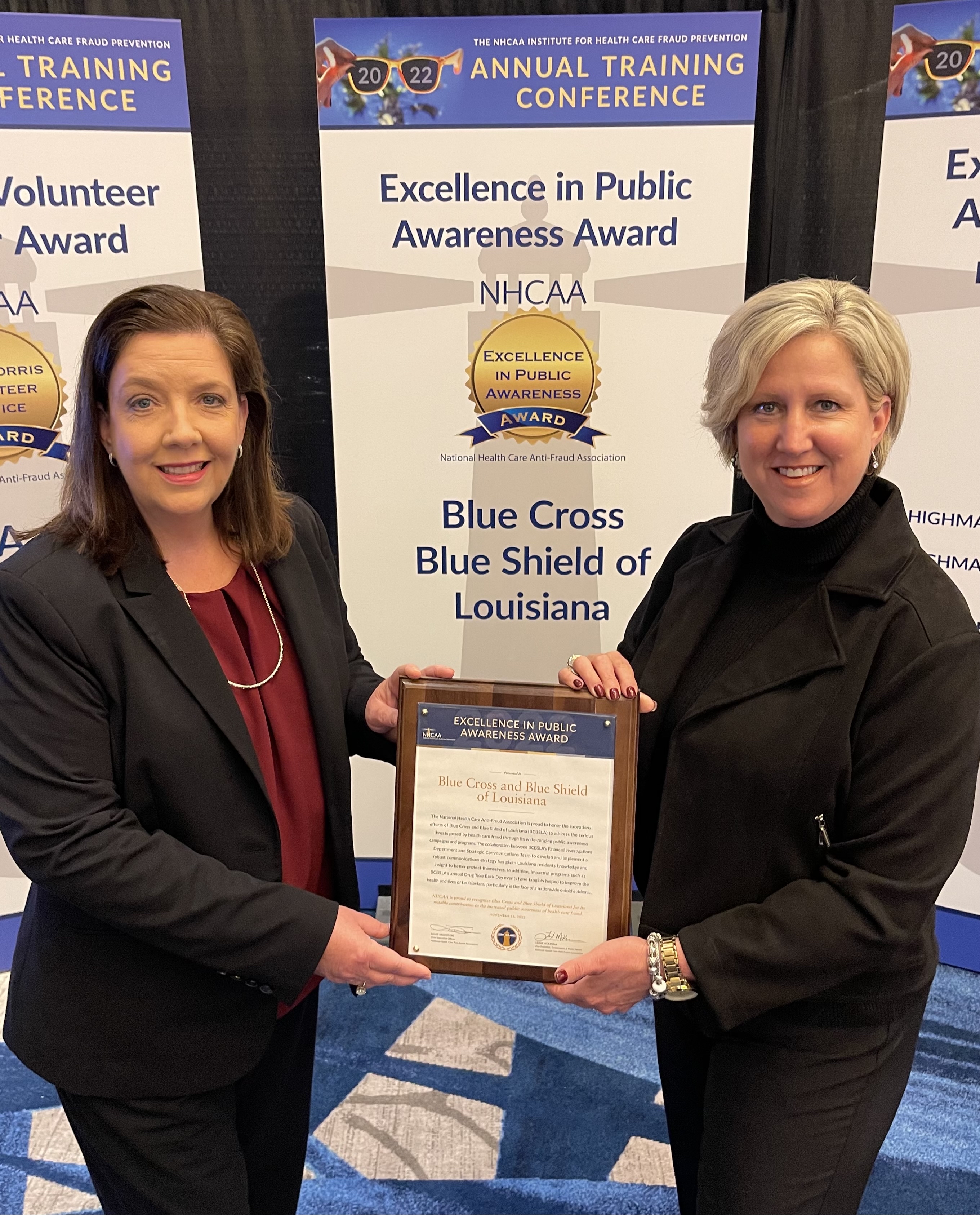 BATON ROUGE, La – The National Health Care Anti-fraud Association recognized Blue Cross and Blue Shield of Louisiana as its 2022 "Excellence in Public Awareness" award winner.

This award is presented annually to an individual or organization for work that raises awareness of the risks from health care fraud. Blue Cross earned this recognition for its robust communication and public awareness strategy that lets Louisianians know the signs of fraud, waste and abuse and how they can avoid becoming victims.

This work involves dozens of Blue Cross team members and is led through collaboration between the insurer's Financial Investigations and Strategic Communications departments. Blue Cross employees specifically recognized with this award are:

• Latisha Mire, Financial Investigations director
• Kandyce Cowart, Special Investigations manager
• Kara Still, Digital Media manager
• Kristen Sunde, Strategic Communications manager

"Our mission is to improve the health and lives of Louisianians, and helping people recognize fraud and scams so they can protect themselves and their families is central to that mission," Mire said.

While there is a steep financial toll to health care fraud, with estimates as high as billions of dollars in losses every year, there is also a huge cost in terms of the time spent resolving fraud, the mental health effects of having your identity or health information stolen, and the lack of access to health care services when you need them if your benefits have been compromised, Mire said.

"Given Blue Cross' relationships with network health care providers, brokers and employer groups around the state, in addition to our 1.9 million members, Blue Cross has a huge opportunity to get everyone engaged in the fight against fraud and notice when something isn't right so they report it faster. The sooner a scammer is stopped, the fewer people will be victims," Cowart said.

Blue Cross also works closely with state and federal agencies and local law enforcement organizations to share messages and information about fraud awareness and prevention, Cowart said.

The National Health Care Anti-fraud Association presented Mire, Cowart and Still with the award at a conference in Orlando, Florida in November. Blue Cross President and CEO Dr. Steve Udvarhelyi hosted an award presentation and unveiling at the company's corporate headquarters in Baton Rouge.

Some of the accomplishments for which Blue Cross was recognized include:

• Ongoing press releases, media interviews and videos featuring Cowart and other Blue Cross leaders with expertise in fraud awareness and prevention

• Social media posts, infographics, designs and other original content, particularly shared during peak times for fraud like health plan enrollment periods and tax season

• Focus on drug safety, including promoting and participating in annual DEA Drug Take Back Day events, and placement of secure drug drop boxes in parishes across the state through a partnership with the Louisiana Attorney General's Office, the National Association of Drug Diversion Investigators and Louisiana law enforcement agencies

• Messages for adults 65 and older, who are most often targeted, so they are aware of common scams and know how to report suspected fraud

"It's important to us that people understand the most powerful weapon they have in the fight against fraud is trusting their own instincts," Cowart said. "If something doesn't feel right to you, don't worry about seeming rude – just don't engage. Hang up, walk away, don't click and don't respond. If it's a legitimate outreach, they will not mind if you take the time to verify it. And taking a few minutes to check it out now could save you a lot of trouble later."

Fraud Awareness and Prevention Resources

If you think you've been a victim of fraud or were approached by a scammer, you can report it online at Tips.FBI.Gov or IC3.Gov or by calling 1-800-CALL-FBI (225-5324). Blue Cross members can also make reports to the insurer's Fraud Hotline at 1-800-392-9249.

The Blue Cross and Blue Shield of Louisiana YouTube channel has a "Fraud Prevention Tips" playlist of short videos, including "Mr. Jimmy's Medicare Advantage Member Story." (2:48) Blue Cross member Jimmy and his sister, Donna, talk about what happened when his identity was stolen and how his Blue Cross agent, Hope, helped him stay covered. Subscribe to know when new videos are added.

Connect with Blue Cross on social media @BCBSLA to see ongoing messages about fraud awareness and prevention. Blue Cross posts often on Facebook, Twitter, LinkedIn, Instagram and TikTok.
Photo cutline: Blue Cross Special Investigations Manager Kandyce Cowart (L) and Financial Investigations Director Latisha Mire (R) accept the National Healthcare Anti-fraud Association's 2022 "Excellence in Public Awareness" award at the association's conference in Orlando, Florida.
About Blue Cross and Blue Shield of Louisiana
Blue Cross and Blue Shield of Louisiana is committed to our mission to improve the health and lives of Louisianians. Founded in New Orleans in 1934, we are a tax-paying nonprofit health insurer with offices in every major region to serve our customers. We have been recognized for the past four years as an honoree of The Civic 50, named by Points of Light as one of the 50 most community-minded companies in the United States.
Blue Cross and Blue Shield of Louisiana is an independent licensee of the Blue Cross and Blue Shield Association. We are a private mutual company, owned by our policyholders, with an independent Louisiana Board of Directors and no shareholders. We invite all Louisianians to visit our website at www.bcbsla.com or talk to us on social media @BCBSLA.